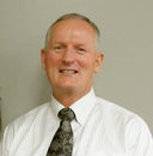 Dr. Brown is a graduate of Pacific University College of Optometry. He has been practicing in Salt Lake City since 1984. He is a member of both the American Optometric Association and of the Utah Optometric Association, as well as the Contact Lens Section of the American Optometric Association. Dr. Brown provides exams, diagnoses, and treatments of all disorders that affect the eye or vision. With his background, Dr. Brown is trained to recognize a range of health issues; such as glaucoma, macular degeneration, diabetes, and hypertension.
Dr. Brown has taken a big interest in the treatment of Dry Eye Disease. Living in Utah has a big effect on the surface of our eyes and this disease can actually affect and cause changes in your vision. Dr. Brown works hard to stay up to date with the latest advances in eye health. He regularly attends continuing education seminars.
Dr. Brown's specialty in contact lenses has taken him all over the country on an advisory position with Vistakon, that is why he has also taken a big interest in the care and management of Keratoconus. He is a participating member of VOSH (Volunteer Optometric Service to Humanity) and has traveled to Mexico on many occasions to provide basic vision needs to the poor and needy of Mexico. He has been a participating doctor in "Save Your Vision Week," since 1986, providing free eye exams and glasses to the working poor in Utah, for which work he has been recognized by President Jimmy Carter.